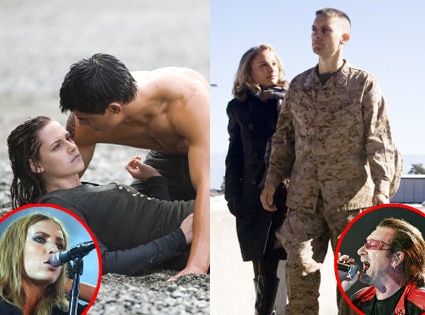 The Academy
may not have thought much
of
New Moon
's Jacob-to-wolf transformation, but apparently the moody music did it for 'em.
Lykke Li's "Possibility," off the Twilight sequel's soundtrack, is one of 63 tunes in the running for a nomination for Best Original Song at the 82nd Annual Academy Awards in March.
The up-and-coming Li could be sharing the stage with anyone from Bono to Miley Cyrus to Ne-Yo—or, perhaps, Paul McCartney—depending on how it all plays out.
The U2-penned-and-performed "Winter" from the Iraq-war-hits-home thriller Brothers made the initial cut, while Hannah Montana: The Movie and The Princess and the Frog each have four songs in the running.
Ne-Yo's romantic "Never Knew I Needed" from Princess could win him his first little gold man, while Miley has three shots at taking the Oscar stage as a performer for the first time (and dad Billy Ray Cyrus has one if the Academy of Motion Picture Arts & Sciences digs "Back to Tennessee" the best).
McCartney, an Oscar winner for the title track to Live and Let Die in 1973, could win a return trip to the podium for "(I Want to) Come Home," one of the songs he penned for the Robert De Niro-starring family dramedy Everybody's Fine.
Karen O ("Hideaway" and "All Things Love" from Where the Wild Things Are), Leona Lewis ("I See You" from Avatar) and Jarvis Cocker ("Petey's Song" from Fantastic Mr. Fox) could also provide a little Oscar-Grammy hybridization.
Get the full list of contenders after the jump:
"All Is Love," Where the Wild Things Are
"Almost Over You," My One and Only
"Almost There", The Princess and the Frog
"AyAyAyAy," The Maid
"Back to Tennessee," Hannah Montana: The Movie
"Being Bad," Duplicity
"Blanco," Fast & Furious
"Brothers in Arms," Brothers at War
"Butterfly Fly Away," Hannah Montana: The Movie
"Cinema Italiano," Nine
"Colorblind," Invictus
"Depression Era," That Evening Sun
"Don't Walk Away," Hannah Montana: The Movie
"Dove of Peace," Bruno
"Down in New Orleans," The Princess and the Frog
"Fly Farm Blues," It Might Get Loud
"Forget Me," I Love You, Beth Cooper
"God Bless Us Everyone," from Disney's A Christmas Carol
"Here," Shrink
"Hideaway," Where the Wild Things Are
"Hoedown Throwdown," Hannah Montana: The Movie
"I Bring What I Love," Youssou N'Dour: I Bring What I Love
"I See You," Avatar
"(I Want to) Come Home," Everybody's Fine
"If You're Wondering," The Lightkeepers
"Impossible Fantasy," Adventures of Power
"Innocent Child," Skin
"Invictus 9,000 Days," Invictus
"Legendary," Tyson
"Let Freedom Reign," Skin
"Loin de Paname," Paris 36
"Ma Belle Evangeline," The Princess and the Frog
"My One and Only," My One and Only
"Na Na," Couples Retreat
"Never Knew I Needed," The Princess and the Frog
"New Divide," Transformers: Revenge of the Fallen
"New Jersey Nights," Adventures of Power
"New York Is Where I Live," Did You Hear about the Morgans?
"No Time for Love," Simon & Malou
"One Day," Post Grad
"Only You," The Young Victoria
"Other Father Song," Coraline
"Petey's Song," Fantastic Mr. Fox
"Ponyo on the Cliff by the Sea," Ponyo
Possibility," The Twilight Saga: New Moon
"Raining Sunshine," Cloudy with a Chance of Meatballs
"Running Out of Empty (Make Ourselves at Home)," Lymelife
"Smoke without Fire," An Education
"Somebody Else," Crazy Heart
"Stu's Song," The Hangover
"Take It All," Nine
"Through the Trees," Jennifer's Body
"Trust Me," The Informant!
"Un Bouquet des Violettes," New York, I Love You
"We Are the Children of the World," The Imaginarium of Doctor Parnassus
"We Love Violence," The Imaginarium of Doctor Parnassus
"The Weary Kind (Theme from Crazy Heart)," Crazy Heart
"When You Find Me," Adam
"Winter," Brothers
"The Word Is Love," Oy Vey! My Son Is Gay!
"You Got Me Wrapped around Your Little Finger," An Education
"You'll Always Find Your Way Back Home," Hannah Montana The Movie
"You've Been a Friend to Me," Old Dogs
E! Online