The Twilight series of vampire books by Stephanie Meyer has boosted the sale of children's books and sales of picture books are also up.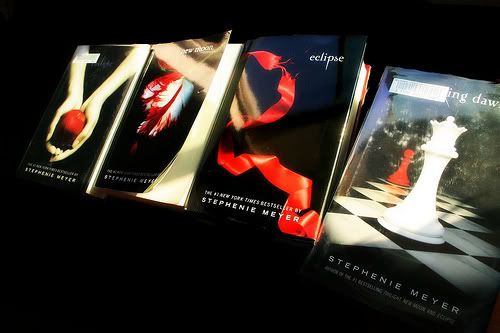 Children's books are looking healthy in a market which is shrinking slightly in the recession.
Annual figures from Nielson BookScan show children's book sales in 2009 were up 4.9% in volume and picture book sales were up by 13% on 2008.
Children's Laureate Anthony Browne says he is incredibly pleased and surprised.
Latest figures for the book sector as a whole from Nielson BookScan show UK book sales are down 0.5% in terms of volume and down 1.2% in terms of value.
More than 60 million children's books were sold in the UK last year (excluding text books), bringing in £293m to the book industry.
The Twilight books of modern-day vampires by Stephanie Meyer take the five top slots in a list of the 100 children's best sellers for last year.
Altogether, last year the Meyer books added up to £29.3m in sales - 10% of the total children's book sales, according to Nielson BookScan, which compiles the best-seller lists for several national newspapers.
BEST-SELLING CHILDREN'S BOOKS

Top 5 - all Stephanie Myers Twilight series

6 - Beano Annual 2010

7 - Miles to go by Mylie Cyrus

8 - Mr Gum in the Hound of Lamonic Bibber /Sephir the Storm Monster by Andy Stanton and Adam Blade

9 - Peppa Pig official annual

10 - New Moon by Stephanie Myers

11 - Tales of Beedle the Bard by J.K Rowling
There have been many campaigns in recent years aimed at encouraging reading across the ages and particularly at getting parents to enjoy picture books with their babies and toddlers to give them a love of books at an early age.
Last year was the National Year of Reading and World Book Day, held in March, has become an annual event many schools take part in.
As part of World Book Day, £1 book vouchers are given to school children and some books are released for £1.
One of those - a "two books in one" - was the number eight best-selling children's book for last year: Mr Gum in the Hound of Lamonic Bibber/Sephir the Storm Monster by Andy Stanton and Adam Blade.
Campaigners - and publishers - are hoping that the message is getting through.