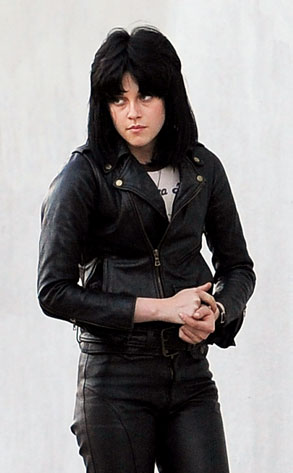 Do celebrities really get a say in who plays them in the biopic? Did Joan Jett really "pick" Kristin Stewart?
—AntidoteProject, via Twitter
Most of the time—assuming that the subjects are still alive—they get no binding say in who plays them. Then again, most producers aren't stupid, at least in this area. They'll often seek out a "blessing" from the subject, along with a bunch of meetings between the actor and the subject that can later be used for cutesy talking points.
Producers hate to give up creative control of a project, but they really, really don't want to piss off the subject of a biopic. Otherwise the icon might take to the Internets and crack off about how non-iconic that rotten young punk of an actor was.
Not that Joan Jett seems to have a problem with Kristen Stewart wearing her hair and leather in The Runaways. In fact...
...she seems somewhere between indifferent and pleased.
"While Joan is not involved with the casting decisions, she is eager to see Kristen's work and meet with her about the upcoming role," her official Web site said after the casting was announced. And that's how it usually works.
For Walk the Line, director James Mangold did run the idea of Joaquin Phoenix by Johnny Cash before officially casting him. June Carter Cash was said to have expressed her satisfaction in Mangold's decision to hire Reese Witherspoon. And of course Ray Charles wouldn't have had those meetings with Jamie Foxx if he didn't like the actor portraying him in Ray. But that's not necessarily the same as legally binding approval, which is extremely rare, I am told.
"Usually, biopics are movies produced about public figures, which means they can be portrayed anyway the filmmaker wishes to portray them," producer Jerry Tokofsky tells me. "Most biopics are made about people that are no longer living, but in the event that the film is about a living individual, normally the individual would not have final say or right of approval."
As for whether Bella Swan can effectively channel Joan Jett in the biopic, which is currently shooting, we'll soon see.
source