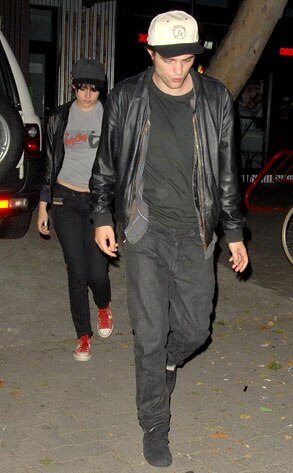 Robert Pattinson
and
Kristen Stewart
finally came out of hiding this weekend, hitting up parts of the 'Couv with none other than
Nikki Reed
and
Elizabeth Reaser
.
Remember, Robsten have been MIA by choice, so the public debut must mean something...
Maybe the fact that the cast—dark-haired temptress Nikki included—has totally stepped out of the way for Robsten to be together means the messy love-triangle business is so forgotten about. After all, Nik is still with Paris Latsis (who was up visiting N.R. this weekend), so maybe she really has moved past it?
Uh, hardly folks. But Miss Reed is sitting pretty with her wad-of-cash boyfriend, "totally over" any of that old Robsten drama. She's moved up in the world, remember?
Since she's way out of the picture, Kristen and Rob are playing it cool, 'cause what's that phrase? Keep your friends close and your enemies closer? Well they certainly did this weekend...
After Nikki was seen cruising the town with her BF and K.Stew, she and new bestie Elizabeth Reaser went out with Rob and Kristen to the Bobby Long Show at the Backstage Lounge Monday night.
While we're told Robsten hung close the entire night (keeping PDAs to a minimum since they weren't trying to hide from onlookers), as they left the show together, some drunken girl supposedly called our girl K.Stew "a bitch"—resulting in a Twi-fan-on-Twi-fan throwdown.
We've contacted the Backstage Lounge to see what really went down, but haven't heard back.
What is certain, though, is that Rob and Kristen left together to go back to their hotel—a place they have been spending loads of time together. Too yummy.
But next time, we hope R.Pattz sticks up for his woman. Sure, a classy guy would let it go, but the sexy rebel guy we know he is would throw some sass right back.